We are pleased to add a feature to go deploy Marketplace that enhances the functionality of organization accounts with invoicing terms. These improvements are designed to provide you with greater financial control and convenience. Read on to learn more about this new feature.
1. Balance and Credit Limit:
All organization accounts with invoicing terms will now have a balance and a credit limit.
The balance reflects the outstanding amount due on the account and increases by the total value of each placed order.
The credit limit sets a maximum cap on the balance. If a credit limit is specified, the Balance cannot exceed this limit, ensuring efficient management of credit exposure.
2. Unlimited Credit Limit:
organization accounts on invoicing terms without a defined credit limit will enjoy the benefit of an unlimited credit limit. This allows you to place orders without any restrictions on your balance, subject to adherence to our standard invoicing terms.

3. Credit Limit Enforcement:
To maintain credit compliance and uphold financial stability, our system will prevent the placement of an order if it would cause a organization account to exceed its specified credit limit.

4. Monitoring Your Balance and Credit Limit:
We have streamlined the process of monitoring your balance and credit limit. Simply navigate to the payment and orders page in the accounts section of the Marketplace. There, you can easily keep track of your current balance and credit cimit status in real-time.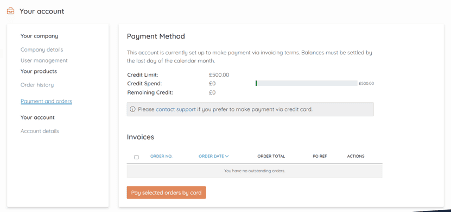 5. Invoicing Orders Overview:
The payment and orders page also provides an overview of your currently pending invoicing orders. This feature helps you stay on top of your commitments and payment schedules.
Add Company Details Modal:
6. Freeing Up Balance:
If you wish to free up some balance, you have the flexibility to pay off multiple invoicing orders placed in the same currency. Just select the orders you want to settle early and proceed with the payment using your credit card.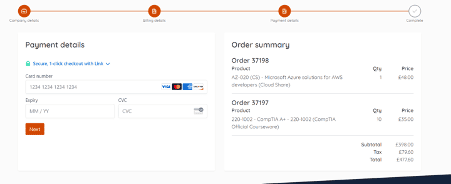 7. Application for Invoicing Terms and Credit Limit Updates:
Existing users can now apply for invoicing terms or request updates to their credit limit. Simply contact our dedicated support team at support@godeploy.it, and we will guide you through the application or update process.
8. New Users and Invoicing Terms:
If you are a new user creating a organization, you now have the option to request invoicing terms. Just tick the checkbox for invoicing terms during the account setup process and fill in your 'accounts payable' fields, along with your requested credit limit. Please note that the approval of the requested credit limit is subject to our evaluation of your organization.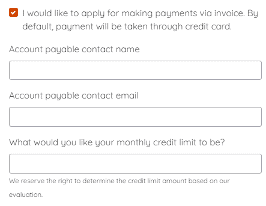 Account Overview page:

At go deploy, we are committed to providing you with an exceptional user experience. These features are designed to ensure a seamless and efficient invoicing process for your organization accounts.
If you have any questions or need further assistance, our support team is ready to help. Don't hesitate to reach out to us.